Automatic double carousel machine for assembling and testing thermostats
Industrial automation for assembly and testing of thermostats
Our automatic line is an industrial automation that operates in the assembly and testing sector, the automation is used to test and assemble thermostats.
The machine has been designed and built exclusively according to the specific needs of the customer.
The automation is an automatic double carousel line, this is because, since several and multiple tests were required to be carried out, it was not possible to create a single machine. Thus, in agreement with the customer, we split the automation into two separate rides.
The carousels are fixed pallet discs dedicated to housing the resistors. Between the two carousels there is a conveyor with mobile pallets that follows the movement of the elements between the two machines. The pallets on the conveyor are timed by stoppers for stopping and are dragged by a roller shutter system, all movements are performed by geared motors and cylinders operated pneumatically.
Along the line there are mechanical parts that carry out the manipulations on the thermostats, they are moved from one housing seat to another to differentiate the various tests. The tests are performed by thermostat adjustment heads and wiring on the various power points.
All tests are carried out by electronic instruments positioned along the line, the final test is performed in a real way, the thermostat is immersed in tanks containing water as in the specific final use. There are three tanks and each is regulated with different temperatures, this allows the system to calibrate the thermostats in different operating situations.
The line is fully automatic and has a production capacity of approximately 360 cycles per hour, the cycle is fully programmable via touch screen to set the type of tests to be followed, programs dedicated to the various models can be created and a database can be created.
Our Adaptive Industrial Automations Guaranteed to measure
No risk with our A.I.A.G.Protocol
All our automations are 100% guaranteed
We have implemented a working protocol with which we can guarantee 100% the result to our customers. This Guaranteed Adaptive Industrial Automation (A.I.A.G.) protocol is divided into several steps: organizational, planning and operational where for each of these performance indicators are defined, which measure the effectiveness and therefore the results obtained in each phase.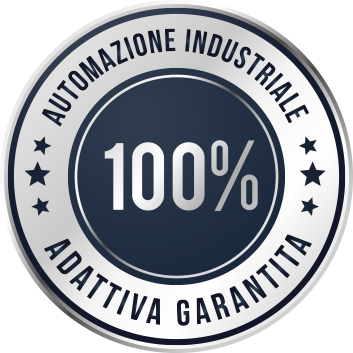 Tonelli Macchine S.r.l. | P.IVA 02107050417 Business Register of Pesaro Urbino N° 02107050417 N.R.E.A. 154868 Share capital € 15.000,00 i.v.